作者:彭锐(苏州科技大学教师、树山村驻村规划师)

Author: Peng Rui (Teacher at Suzhou University of Science and Technology, Residing Village Planner in Shushan)
2012年的春天,我跟随导师杨新海教授来到苏州市通安镇树山村,开展乡村规划。**次进村的场景至今仍历历在目:金芝岭的东入口是一处蜿蜒缓坡,可谓杂花生树,快步行至高处,千亩雪白的梨花田倏地映入眼帘。那一瞬,树山村的"原风景"撞开了我的心扉,但同时,不尽如人意的人居环境也激发了我内心强烈的使命感。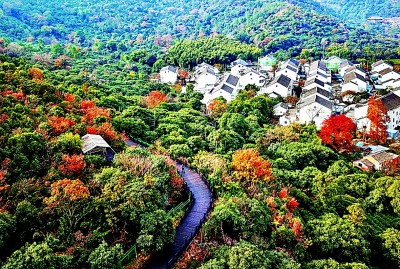 In the spring of 2012, I accompanied Professor Yang Xinhai, my mentor, to Shushan Village in Tong'an Town, Suzhou City, to carry out rural planning. The scene of my first entry into the village is still vivid in my memory: the eastern entrance of Jinzhiling was a winding gentle slope, adorned with various fruit trees. As I briskly walked to the top, a vast expanse of white pear blossoms spanning thousands of acres suddenly came into view. In that moment, the "original scenery" of Shushan Village struck a chord in my heart. However, the less-than-desirable living environment also ignited a strong sense of mission within me.
  刚开始,我并没有多大的雄心,规划很快就完成并获了奖。当我以为这里的工作暂告一段落时,导师告诉我,人才少、规划落地难才是乡村规划**的痛点,并鼓励我在树山村进行"陪伴式"乡建实验。就这样,我略带兴奋地开始了城乡两头跑的驻村生涯,没想到这一"陪"就是十年。
At the beginning, I didn't have much ambition. The planning process was quickly completed, and we even received awards. Just when I thought the work here was coming to a close, my mentor told me that the scarcity of talent and the difficulty of implementing the plans were the biggest pain points in rural planning. He encouraged me to conduct a "companion-style" rural development experiment in Shushan Village. And so, with a hint of excitement, I embarked on a decade-long journey of shuttling between the city and the countryside, little did I know that this "companionship" would last for ten years.
 不同于城市建设,乡村规划无法做到专业化、精细化的管理实施,这就要求规划师在不同角色之间灵活转换。作为"协作者",我要以村民为主体,对民房建筑设计、大石山路综合整治、花溪景观设计等建设项目直接指导或评审,保证规划实施不走样;此外,还要联合大院大所建设负氧离子实时监测系统,联合艺术院校挖掘创作乡土景观小品,联合社会资本和返乡创业青年参与精品民宿建设,当好"合作者"。
Unlike urban development, rural planning cannot achieve specialized and precise management and implementation. This requires planners to be flexible in transitioning between different roles. As a "collaborator," I have to prioritize the villagers as the main stakeholders and provide direct guidance or review for construction projects such as residential building designs, comprehensive improvement of mountain roads, and landscape designs for Flower Creek. This ensures that the implementation of the plans stays on track. In addition, I also collaborate with research institutions to establish real-time monitoring systems for negative oxygen ion levels and collaborate with art schools to explore and create local landscape artworks. Furthermore, I work with social capital and young entrepreneurs returning to their hometowns to participate in the development of high-quality rural accommodations, acting as a reliable "collaborator."
  看着树山村蒸蒸日上的变化,我逐渐意识到,乡村建设不仅需要规划干预,更需要内生发展,实现由"输血"到"造血"的转变。自2016年起,我联合政产学研多方力量,盘活村内闲置资产创建树山乡村双创中心,召开乡村创客大会、组织文创大赛,依托内设机构"乡村规划建设研究与人才培养协同创新中心"和"乡村文旅双创技能大师工作室",培养高校乡建人才、基层干部和创客,孵化文旅双创企业……"乡创+文创"的模式成功激发了树山村的活力。
As I witnessed the thriving changes in Shushan Village, I gradually realized that rural development not only requires planning intervention but also necessitates endogenous growth, transitioning from "blood transfusion" to "hematopoiesis." Since 2016, I have collaborated with various stakeholders from government, industry, academia, and research to revitalize idle assets within the village and establish the Shushan Rural Innovation and Entrepreneurship Center. We organized rural maker conferences, hosted cultural and creative competitions, and leveraged the "Collaborative Innovation Center for Rural Planning and Construction" and the "Master Studio for Rural Cultural and Tourism Entrepreneurship Skills" to cultivate talents from universities, grassroots officials, and entrepreneurs in rural development. This initiative has successfully ignited the vitality of Shushan Village through the "rural entrepreneurship + cultural creativity" model.
  如何搞好乡村文创?这可真让我犯了难。于是,我叫来朋友和学生帮忙。我们瞅准树山村民间图腾——树山守,研发出三大系列近百种相关文创产品,包括守正创新的文旅大使、守望相助的抗疫先锋和守护环境的环保卫士,重塑守子守家、守规守矩、守一守真、守土守疆四位一体的"守文化",打造"树山守"文化IP。
To excel in rural cultural creativity, I faced a challenging task. So, I called upon friends and students for assistance. We focused on the folk totem of Shushan Village, known as the "Shushan Guardian," and developed three major series comprising nearly a hundred related cultural and creative products. These series include cultural and tourism ambassadors representing innovation and tradition, frontline heroes in the fight against the pandemic, and environmental guardians promoting ecological conservation. Through these endeavors, we aimed to reshape the concept of guardianship, encompassing family, rules, integrity, and territorial integrity, thus creating the cultural IP of "Shushan Guardian."
  我们还成立了树山乡村创客联盟,涵盖餐饮、住宿、游乐、农业、文创等领域的40余家单位,通过权利义务的约束,形成"树山命运共同体",加强资源互补,打通产业链条,实现全域联动、抱团发展。
Furthermore, we established the Shushan Rural Creative Alliance, which includes over 40 units spanning various fields such as dining, accommodation, recreation, agriculture, and cultural creativity. Through the binding force of rights and obligations, we formed a "Shushan Community of Shared Destiny," enhancing resource complementarity, connecting the industry chain, and achieving comprehensive and collaborative development. This alliance promotes cross-domain collaboration, fosters synergy among its members, and facilitates coordinated development throughout the entire region.
  有了高颜值和有趣的灵魂,更高的追求便是农业农村的现代化。
With attractive aesthetics and engaging content in place, the next step is to pursue the modernization of agriculture and rural areas with even higher aspirations.
  为此,我和团队挖掘史料,复建了树山罕见的村级书院,通过再现明代文人雅士吟诗诵读的生活场景,展现"门外千根竹,家藏万卷书"的耕读文化,打造全国首创的无边界图书馆,成立"乡村阅读联盟",让书香氛围弥漫整个树山村。
To achieve this goal, my team and I delved into historical records and reconstructed the rare village-level academy in Shushan. By recreating the living scenes of literati and scholars reciting poetry and reading during the Ming Dynasty, we showcase the agricultural and scholarly culture of "thousands of bamboo outside the door and ten thousand volumes of books at home." We have also created the first-of-its-kind borderless library, established the "Rural Reading Alliance," and made the fragrance of books permeate throughout the entire Shushan Village.
  同时,我利用校友资源联合**音乐机构,以音乐文旅为突破口,实施"艺树家"乡村驻地计划,打造****乡村音乐文旅高地和国乐复兴长三角创作基地。2019年,我们创立"文驿"和"村潮澎湃"厂牌,打造音乐会客厅——圌山文驿,通过音乐和驻留艺术家,向全世界讲述中国乡村发展的故事。
Furthermore, leveraging my alumni network, I collaborated with top music institutions and used music and cultural tourism as a breakthrough point. We implemented the "Artistic Residency in the Village" program, aiming to establish the first rural music and cultural tourism hub in the country and a creative base for the revival of Chinese traditional music in the Yangtze River Delta. In 2019, we established the labels "Wen Yi" and "Cun Chao Peng Pai" and created a music salon called "Chu Shan Wen Yi." Through music and resident artists, we tell the story of rural development in China to the world.
  随着城市垃圾分类的推行,我和团队又开始策划树山垃圾分类创新项目。我们建立了"全循环智能分类生态管理平台",精准监控和精细管理乡村垃圾分类;利用"树山守"进行垃圾分类宣教,培植"守护绿水青山,共建美好树山"理念;将垃圾分类与乡村现代化治理结合起来,通过"科技助力+文创赋能"打造乡村垃圾分类新标杆。
With the implementation of urban waste sorting, my team and I have also begun planning innovative waste sorting projects in Shushan Village. We have established a "Full Cycle Intelligent Classification Ecological Management Platform" to accurately monitor and manage rural waste sorting. Utilizing the "Shushan Guardians," we conduct waste sorting education to cultivate the concept of "protecting green mountains and rivers, and building a beautiful Shushan Village." We integrate waste sorting with rural modern governance and use "technology empowerment + cultural creativity" to create a new benchmark for rural waste sorting.
  乡村规划既是多规合一的实用性规划,又是面向未来的创新性规划。在新型工农城乡关系下,"三农"问题已不再是农民在农村做农业的封闭系统,乡村逐渐从同质同构走向异质异构,同时兼具粮食安全、城市腹地和精神家园的多元价值。尤其对于江苏这样的先发地区而言,乡村发展和规划面临很多新的挑战,作为规划师一定要迎难而上并且自我加压。
Rural planning is both a practical planning that integrates multiple aspects and an innovative planning oriented towards the future. Under the new relationship between industry, agriculture, urban, and rural areas, the "three rural issues" are no longer a closed system where farmers solely engage in agriculture in rural areas. Villages are gradually transitioning from homogeneity to heterogeneity, while simultaneously encompassing diverse values such as food security, urban hinterland, and spiritual homeland. Particularly in advanced regions like Jiangsu, rural development and planning face many new challenges. As a planner, it is essential to rise to the occasion, embrace challenges, and put pressure on oneself to meet these challenges.
  如今,树山村已经成为生态优、村庄美、产业特、农民富、集体强、乡风好的明星村。在十年的陪伴中,我和树山村共同成长。我认识到,规划工作是有边界的,但陪伴式服务没有,绝不能把乡村规划做成"一锤子买卖"。乡村规划源于情怀、成于专业、终于治理,归根到底是形成共识的过程,既要尽力而为又要有所不为,要坚持技术方法创新,坚持价值观念持续传导,不忘初心、保持耐心、富有匠心。
Today, Shushan Village has become a star village known for its ecological superiority, scenic beauty, distinctive industries, prosperous farmers, strong collective, and good rural atmosphere. Throughout the ten years of companionship, I have grown together with Shushan Village. I have come to realize that while planning work has its boundaries, the service of companionship knows no limits. We must not treat rural planning as a one-time deal. Rural planning is rooted in emotions, shaped by professionalism, and ultimately manifests in governance. It is fundamentally a process of consensus-building that requires us to do our best while also recognizing our limitations. We must strive for innovation in technical methods, uphold the continuous transmission of values, remain true to our original intentions, maintain patience, and exhibit craftsmanship.
  《光明日报》( 2022年10月08日 09版)
"Guangming Daily" (October 8, 2022, 9th Edition)